Strengthen your skills, explore your style
Want to create your own collection but not sure how to make it happen? Learn my full creative process and framework for making a series of artwork.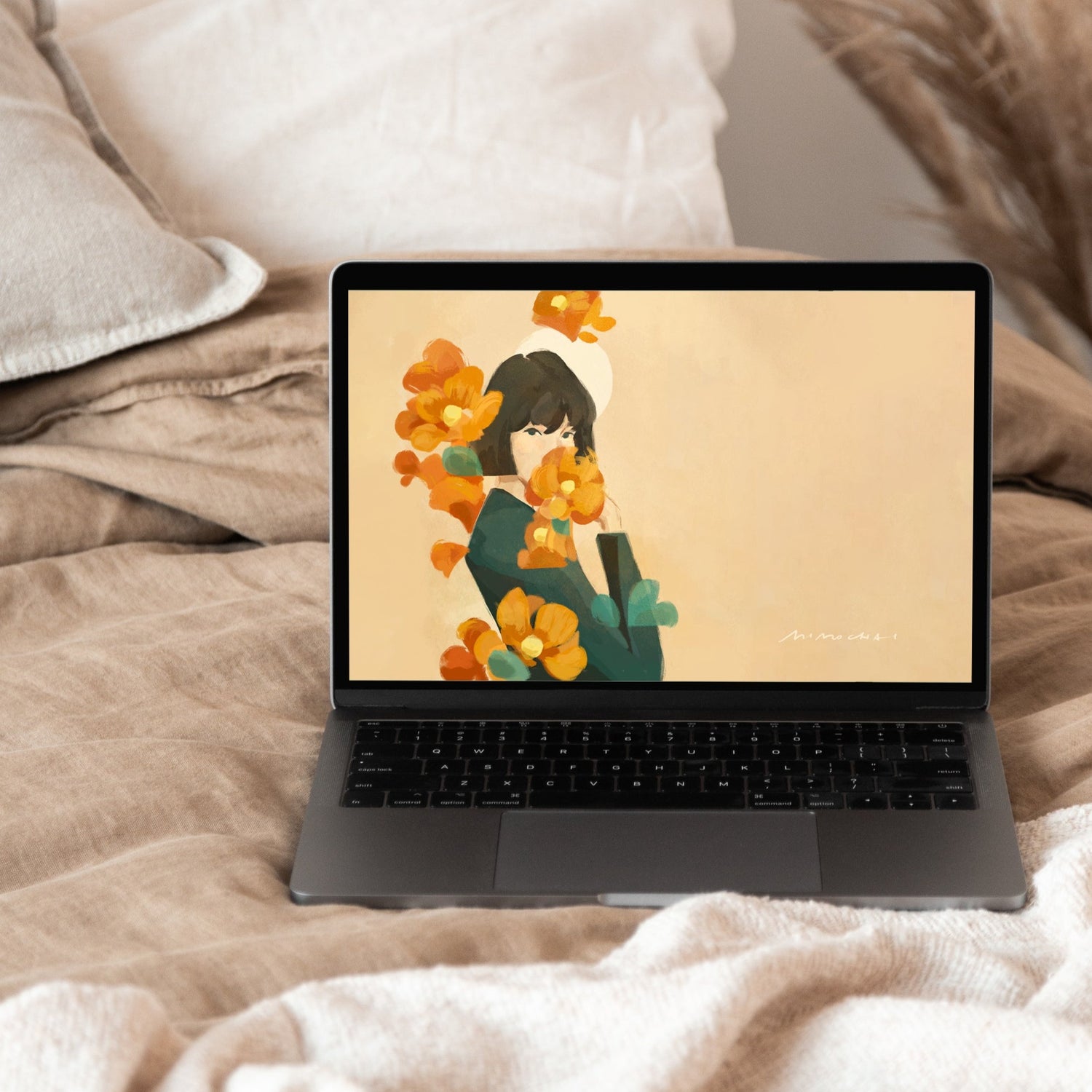 Find your artistic voice
Making a collection is a great way to develop your voice and style. You can also use your finished pieces to create art products or build a portfolio.
What You'll Learn
Module One

Research & Planning

First, we'll figure out what to make. The first module covers:

Finding Your Theme
Identifying Your Purpose
Creating Your Moodboard
Developing Your Ideas

Module Two

Developing Your Artwork

Next, we'll flush out our concepts. The second module covers:

Determining the Pieces
Picking a Style & Technique
Building a Color Palette
Picking a Format

Module Three

Putting It All Together

Finally, we'll make everything cohesive. The third module covers:

Finalizing the Details
Naming Your Pieces
Organizing Your Work
Sharing Your Collection
"Mimi's well-structured lessons guide you step-by-step, helping you discover your unique artistic voice and style. Trust me, this class is an absolute must-take for artists of all levels."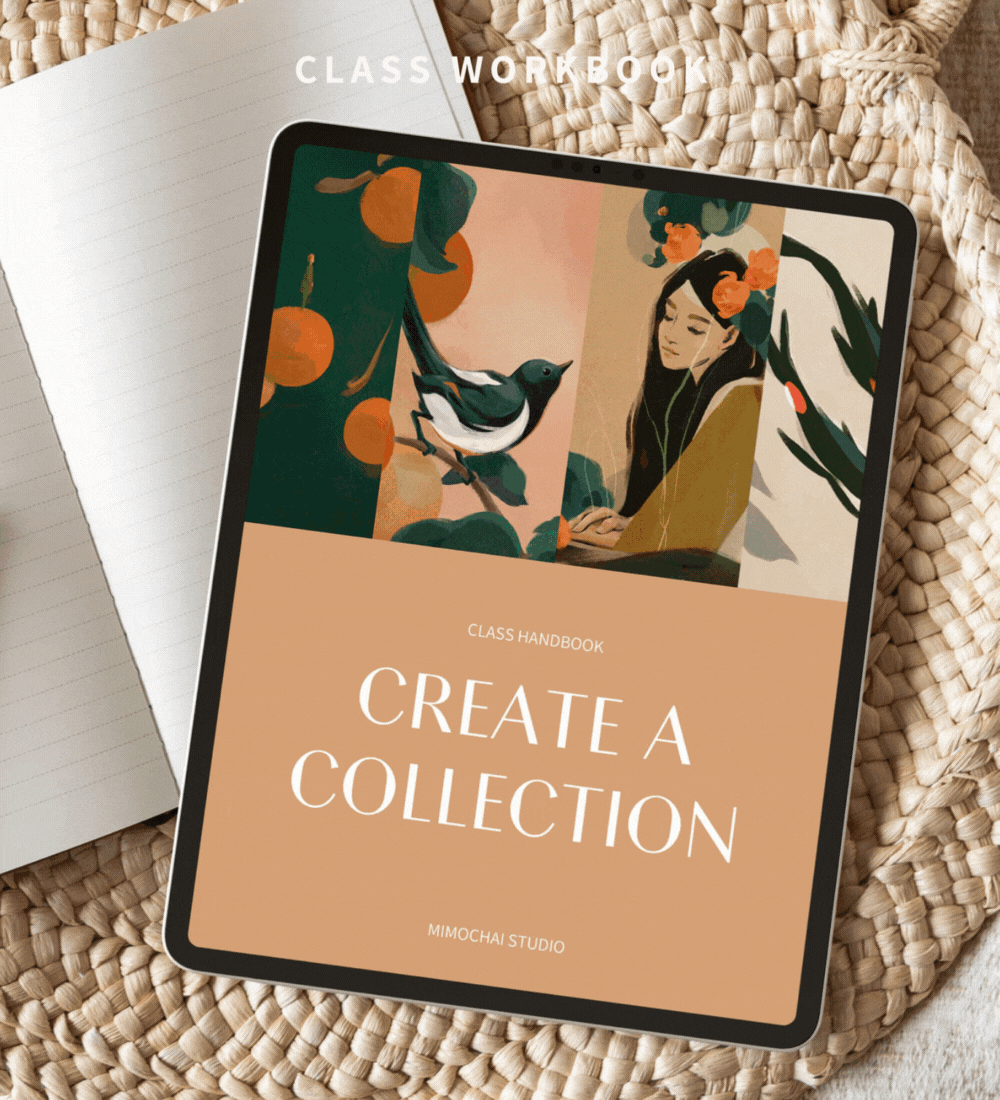 Class Workbook
The class includes a handy reference guidebook that provides summaries of the modules, a step-by-step checklist, and even a Notion planning template.
Free Preview
"Wise, encouraging, insightful instruction from a marvelously talented and thoughtful instructor. Outstanding class."
Create a Collection | Class
Regular price
$99.00 USD
Sale price
$49.00 USD
Unit price
per
Sale
Sold out
Share
View full details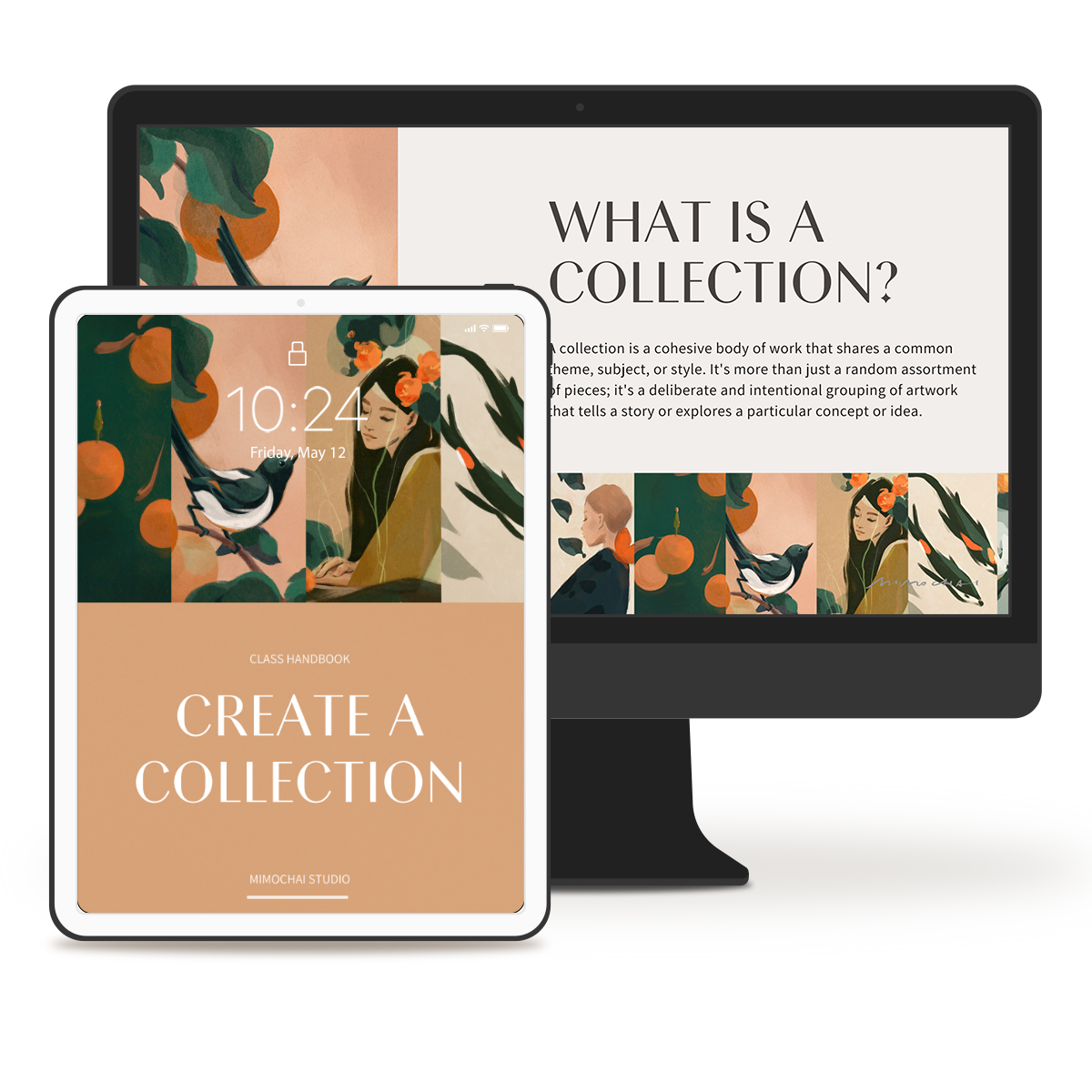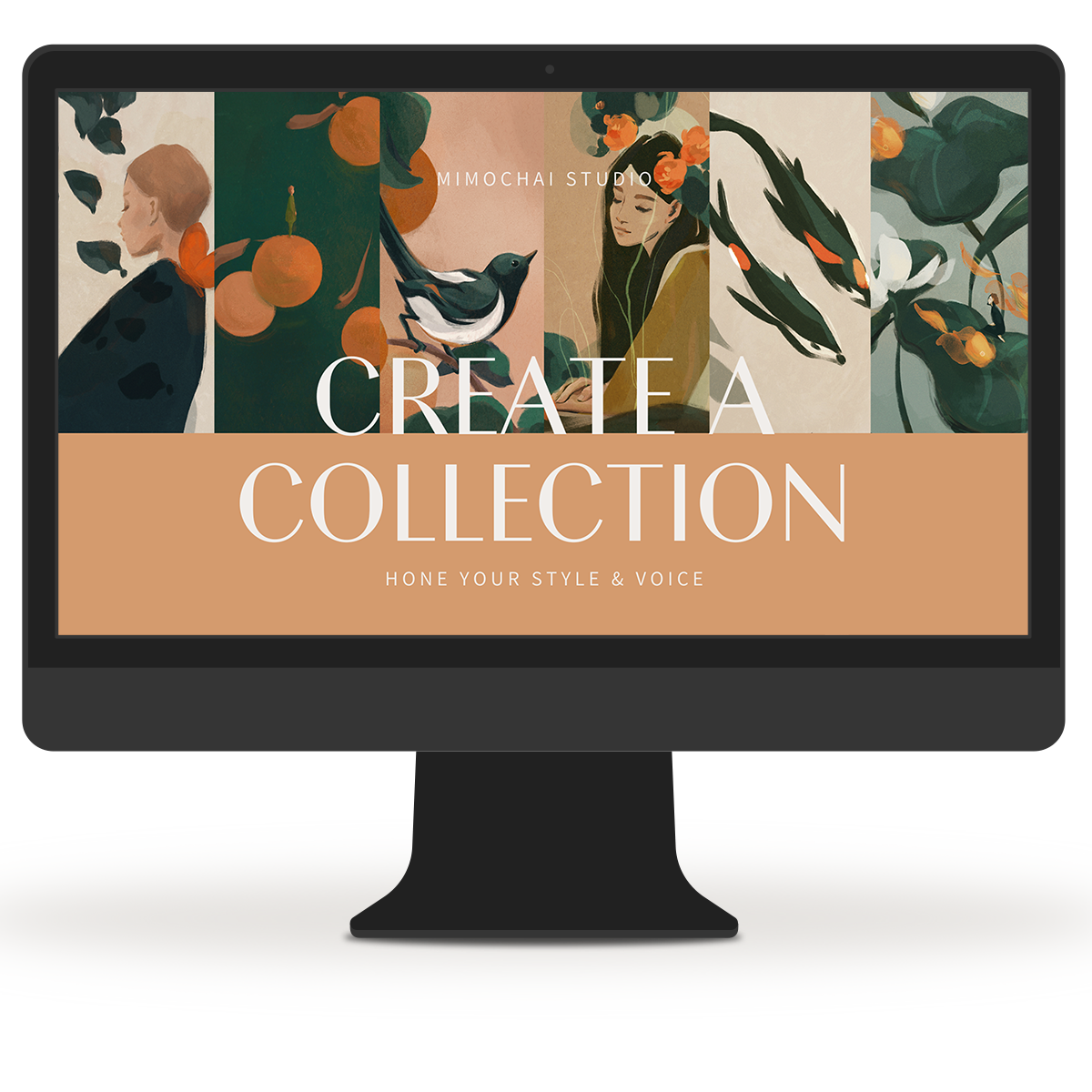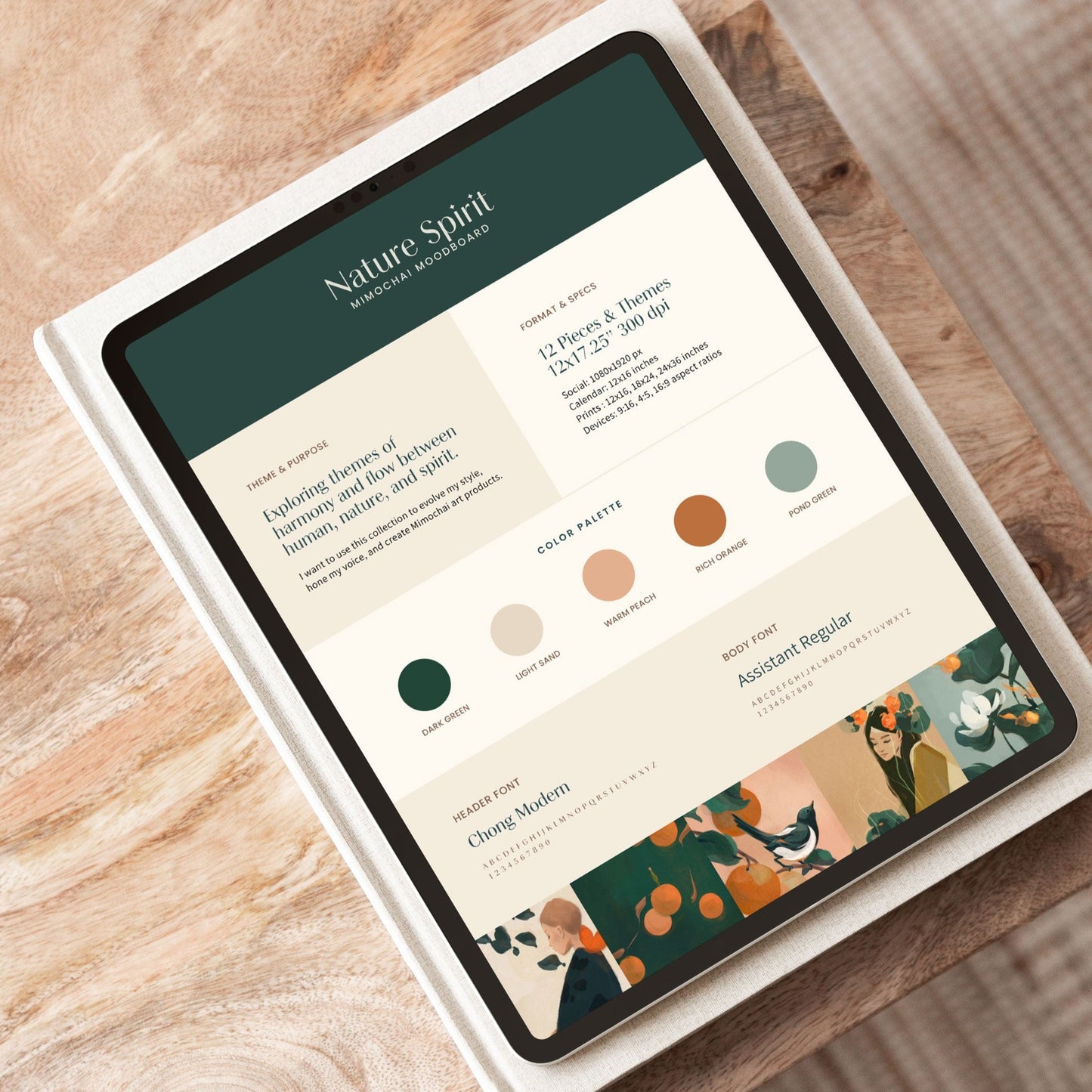 FAQ
How can I watch this class?

There are three ways to watch this class:

The videos are the same but you can ask questions and get direct feedback by purchasing from Mimochai!
How long will it take to complete the class?

The class itself is 1 hour and 40 minutes long of recorded video content, but completing a collection will take you at least a few days if not a few months. It depends on your goals and desired outcome, as detailed in the class.
Is this course a live event?

No this is a pre-recorded set of videos that you can watch on-demand at any time.
What materials do you use in the class?

I use my series Nature Spirit as the class example, which uses digital painting techniques, but you can use any visual medium.
Will I learn how to draw?

No this is not a drawing class. Please see Drawing Foundations for that. This class teaches a creative framework that can be applied to any visual medium.
Does this course have subtitles?

No it is in English. We are working on offering subtitles in the future.
How long will I have access to this course?

If you purchase it individually, you will have access forever.
Is there a refund policy?

If you are not satisfied with the course, please email us within 14 days of purchase to request a refund.
Other questions? Feel free to ask us 💛